Panasonic Telephone Systems For Small Businesses
Are you searching for an expert technician to install a Panasonic business phone system? Well, you have reached the right place. We offer you the best phone system installation services for your small to medium business. We install and service both Panasonic VOIP phone systems and Panasonic PBX systems.
Small businesses across the USA have come to appreciate how Panasonic communications solutions give them the flexibility and reliability they demand from their phone systems. As your business expands, these networks can easily be adjusted to handle an increasing volume of communications between different sites within the USA and overseas. Whether you prefer to stay with a traditional-look phone system or move over to the latest IP-based systems, you can easily find the type of communications solution you seek, and Telenet Solutions is the ideal choice for your service provider partner.
Panasonic Small Business Phone Systems
We are a team of professional engineers and technicians with proven experience in Panasonic business phone system installation across the nation. Our sales engineers and technicians are well-informed, highly-skilled and technically-talented professionals who know the ins and outs of installing Panasonic telephone systems for small businesses. We have an excellent record gained over the course of many years working in this business. This has allowed us the opportunity to experience any and all situations; there is no request we can't handle!
We are committed to giving you the best phone installation and maintenance services, be it hosted VoIP PBX system, cloud PBX phone system, on premise PBX, VOIP phone system, or a Panasonic PBX system. We are also trained to install many other kinds of popular business communications networks. Moreover, we take pride in being the quickest to respond to customer support calls. We know the damage phone system failures cause businesses when existing customers become frustrated and new customers are turned away. We understand that you need our service at the earliest time possible and we do not disappoint.
Your Panasonic Phone Installation Is Just A Call Away!
When you want quality phone installation services at affordable rates within short notice, we are the best service provider to choose. Whether it is a case of a minor fault in the office phone connections or major problems in the phone installation in your home, you are guaranteed to receive a superior level of service when you call us. We offer our services nationwide. We have technicians across the US waiting to serve you.
Whatever the nature of your business, we can provide you with a Panasonic phone network that meets your needs. We cater for a range of firms in sales, manufacturing, health services, the public sector, and many other areas of commercial activity. You can only gain by learning from the experience of Telenet Solutions' many customers who value the improvements in efficiency and communications dependability that our Panasonic phone networks always deliver.
If you would like to find out how we can help you get a flexible phone system that caters for your present and predicted future business requirements, please be in contact. You are welcome to Call us any time when want to install a panasonic business phone system for your business. Below you will find a brief overview of some of the systems we offer.
Panasonic business phone system features allow you too :
Easily configure from 8 to over 1000 extensions
Seamlessly expand and network solutions
Reduce costs by leveraging existing data networks
Centralize feature access for multiple locations
Support mobile workforce with wireless connectivity
Compatible with many Panasonic and 3rd Party applications
See the Panasonic Phone System Models Below!
Amazing Panasonic phone system model with 6 to 288 extension possibilities
Best designed Panasonic phone system model for small and mid-sized businesses
Hybrid phone system model from Panasonic for effective internal communication
Large LCD screen can view 6 lines of text. Easy programmable keys.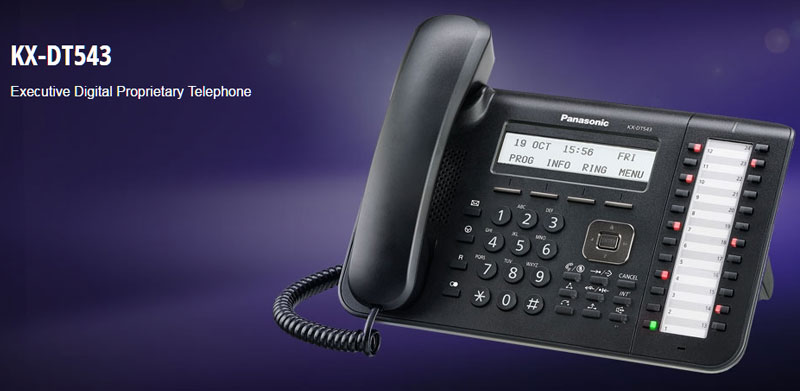 Medium LCD screen can view 3 lines of text. 2 position desk mount for most comfort.
Small LCD screen can view 1 line of text. 1 position desk mount.
Panasonic makes solid phone systems that can handle just about anything you throw at them. Ready to purchase a Pansonic business phone system? Contact us today. Not only will you get the best price but our technicians will install your phone system and teach you how to run them.